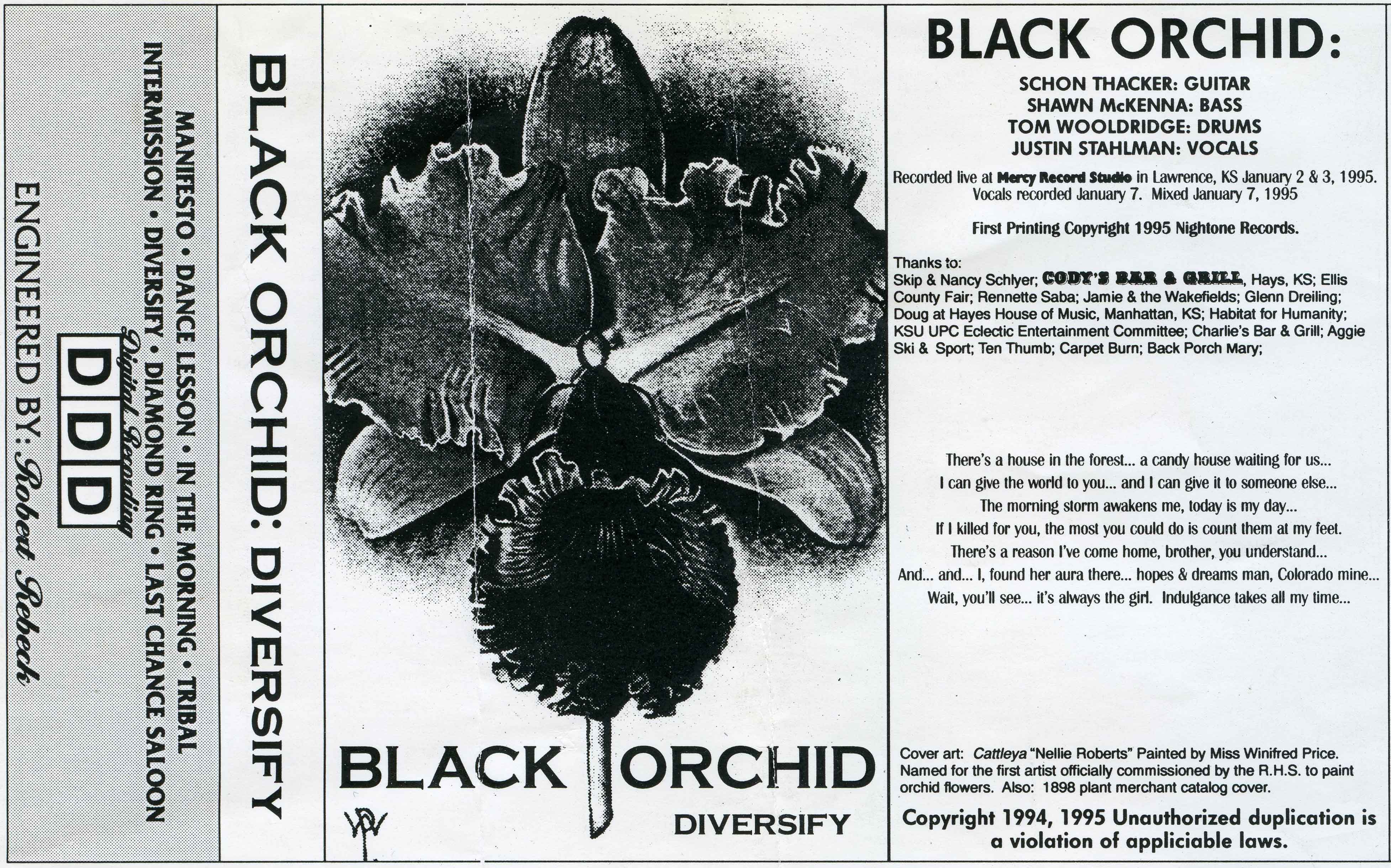 When we formed Black Orchid I went to the Hays Public Library and photocopied some images from a book about flowers. I chose the name because I remembered something from the graphic novel of the same name, about how that colour was impossible for an orchid.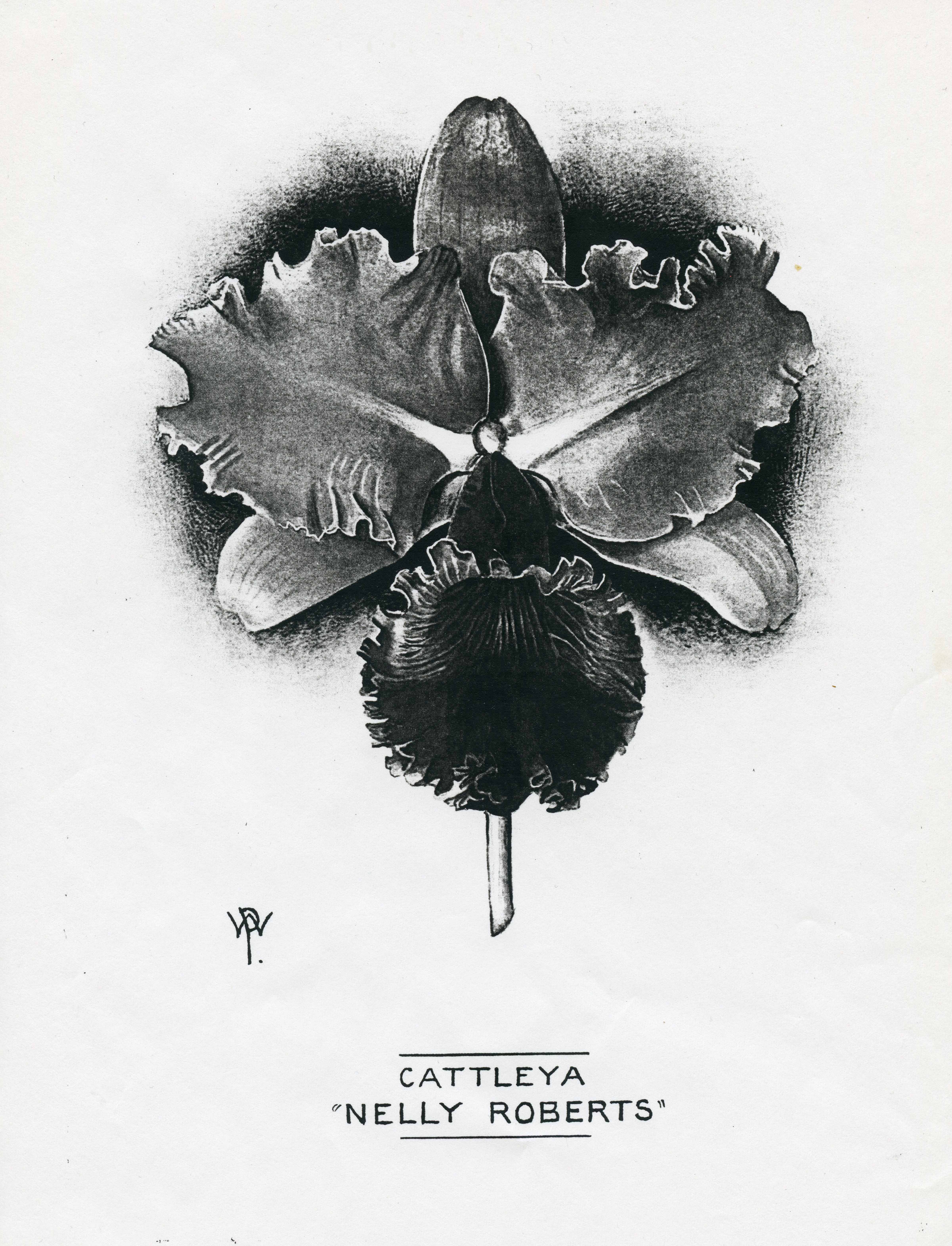 I also liked the organic look of the old graphic design in plant books.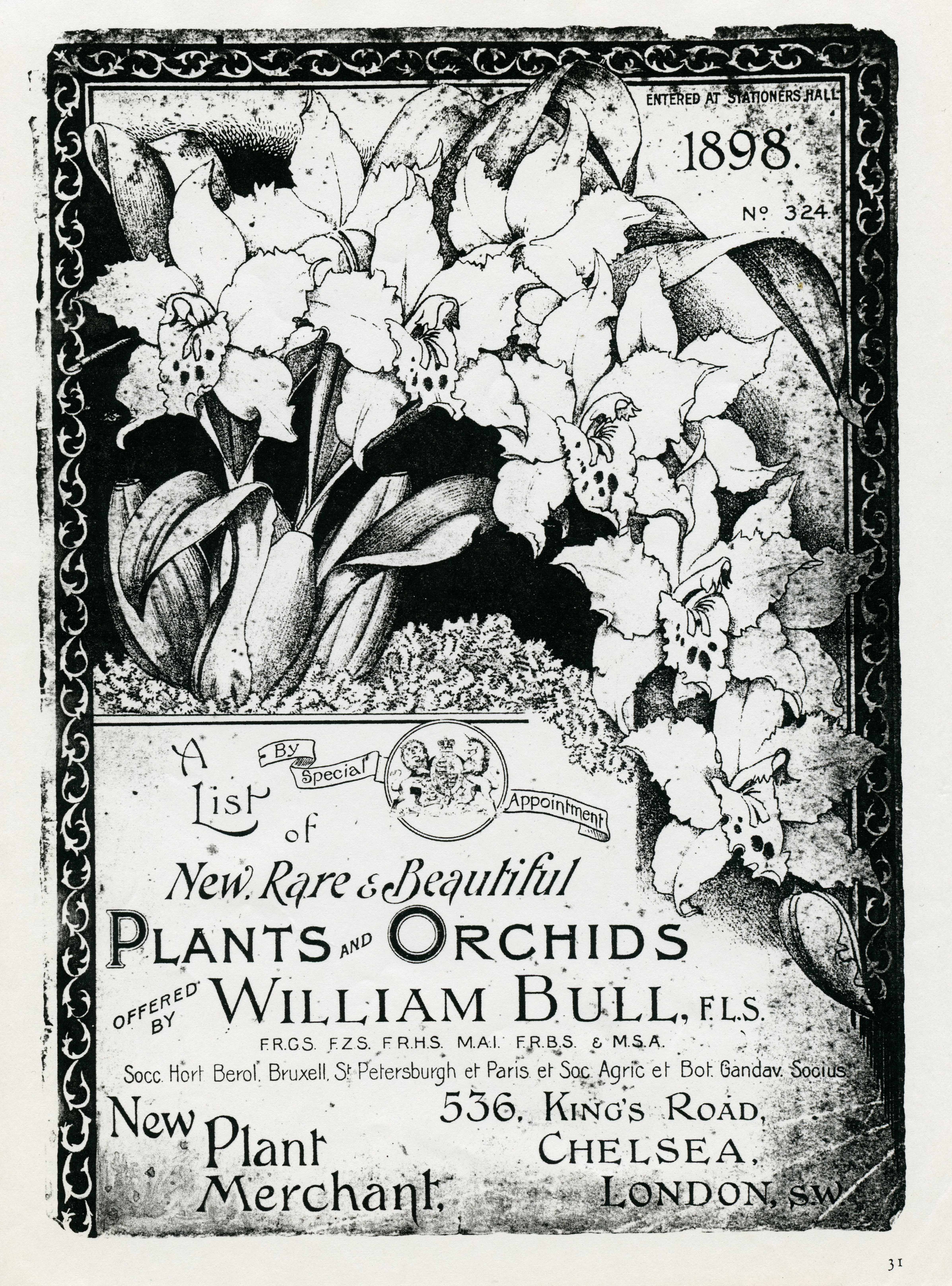 ---
Live shows
Like Sly Buddah and Nightone Drama before it, Black Orchid only played a handful of shows. But like Nightone, we got a lot done for the short amount of time together.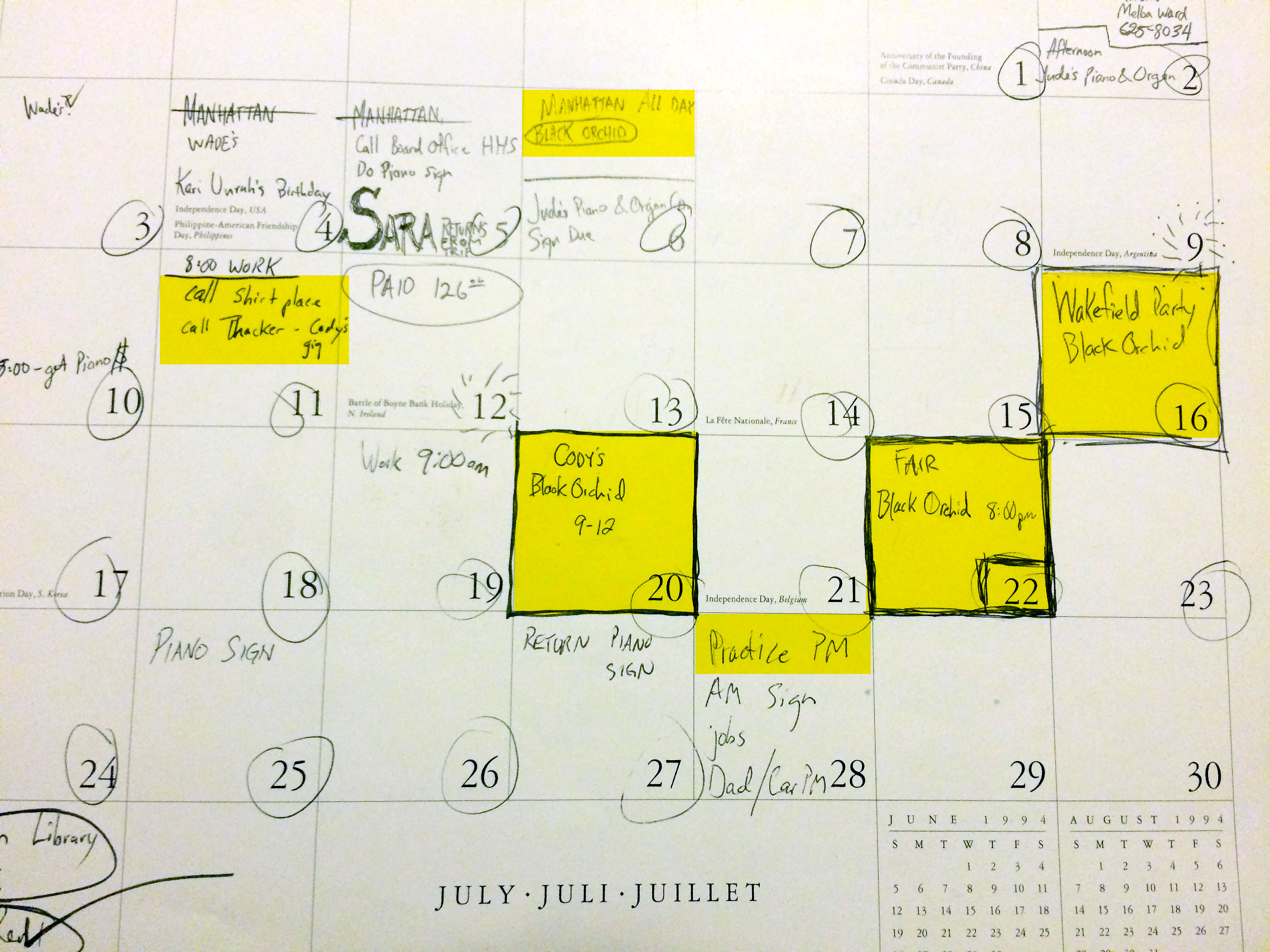 Three shows in one week in July 1994
Wakefield's house party
Saturday July 16, 1994.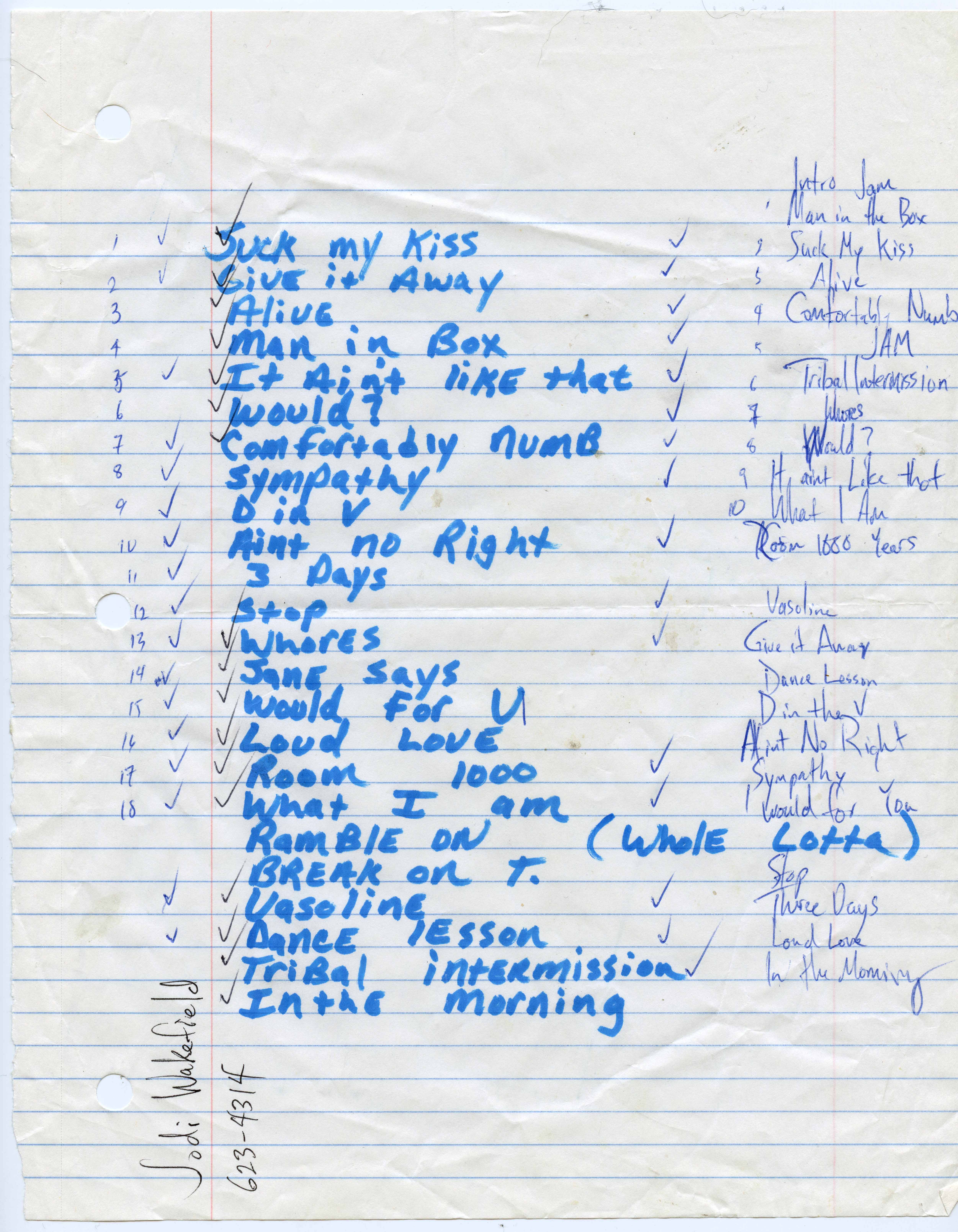 A setlist from a party at Jody Wakefield's place, Saturday July 16, 1994. Somehow a party doesn't seem like an official gig. But this was such a great show and we played so many songs and so many people saw us that it was definitely more successful than most shows at a bar. I think it was Mike Krug from Back Porch Mary who said parties are the best shows, and you can charge admission too.
Later on my solo album Heart & Soul Control (2000) I mentioned Wakefield's place in the song American Way:
Wakefield's [is] goddamned 25 miles [out of town] but we gotta go.
I was referring to parties like the one we played, where half the town was there.
So drink it up babe, cause maybe you'll live, and maybe you won't
...because after the party, drunks driving back to town.
Cody's Bar & Grill
Wednesday July 20, 1994.
I had worked here in the summer doing odds and ends, mostly painting. Tom Wooldridge's aunt owned the place and we got this gig four days after the Wakefield party.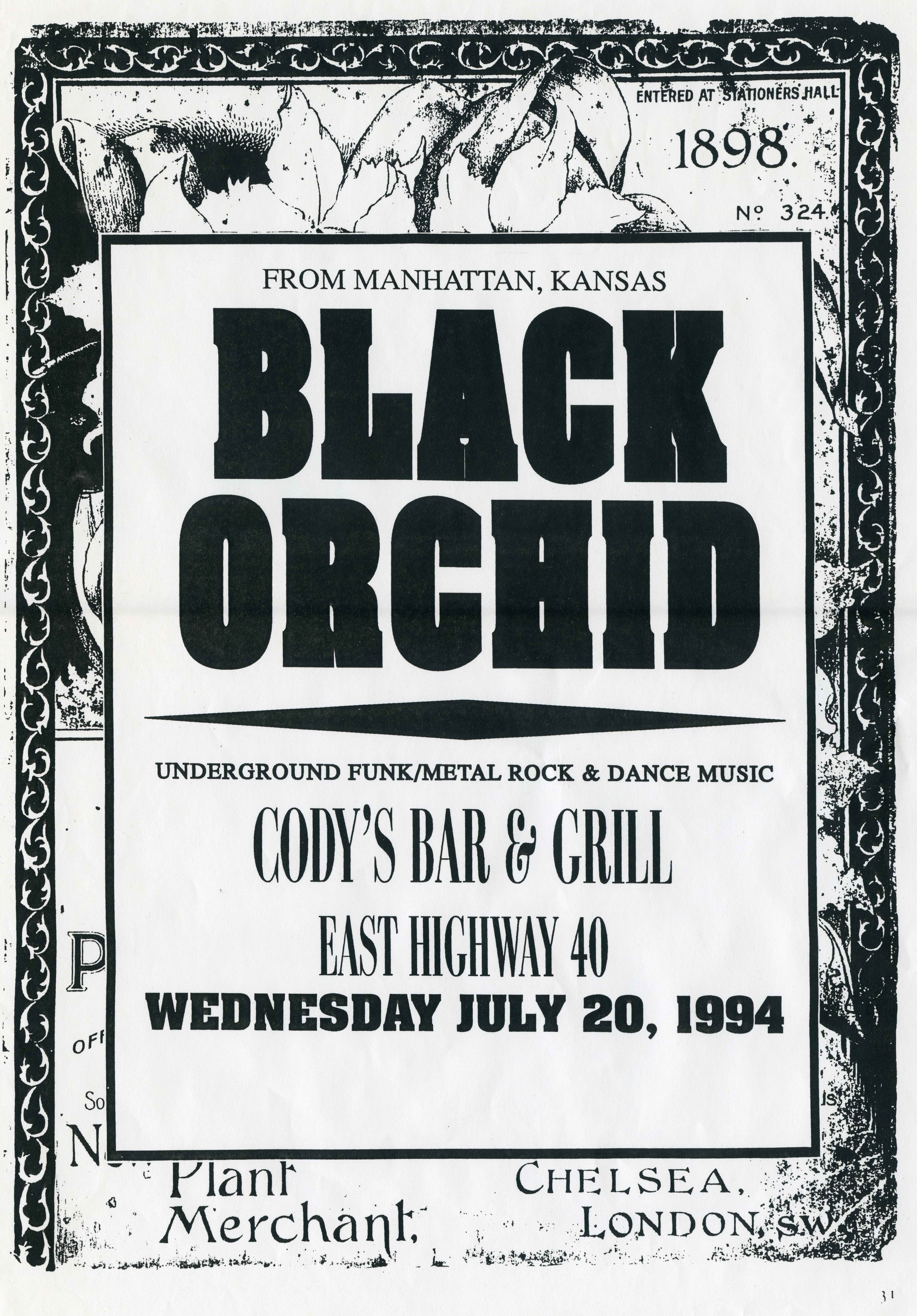 Poster for the show at Cody's Bar & Grill on Wednesday July 20, 1994. It was good show but I pinched my hand somehow on the mic stand during Three Days. It was bleeding but that just made the song more intense.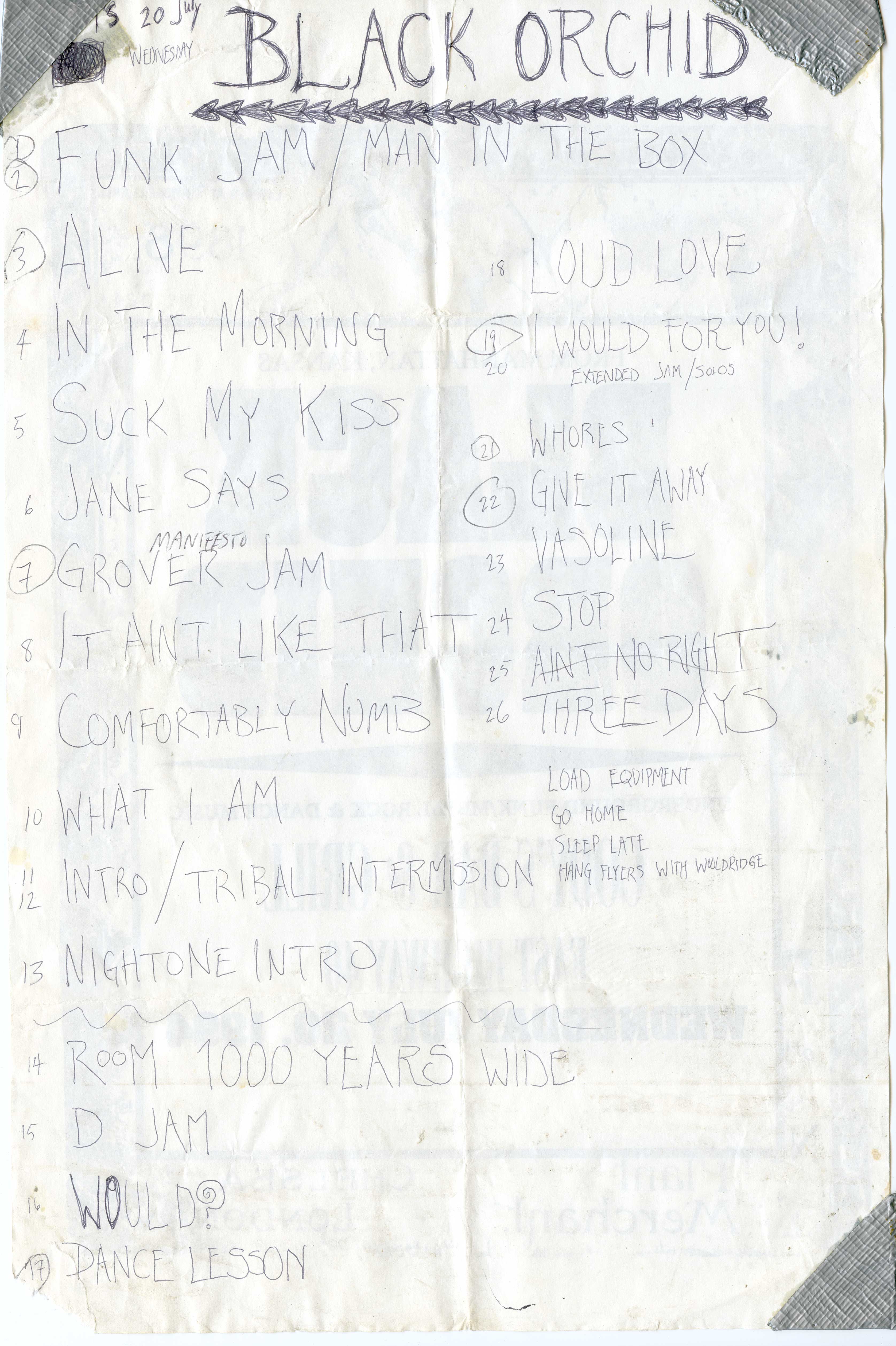 Funk Jam
Man in the Box (Alice in Chains)
Alive (Pearl Jam)
In the Morning (original)
Suck My Kiss (Red Hot Chilli Peppers)
Jane Says (Jane's Addiction)
Manifesto (original) / Grover Jam (sounds like a McKenna groove)
It Aint Like That (Alice in Chains)
Comfortably Numb
What I Am (Edie Brickell & New Bohemians)
Intro to tribal
Tribal Intermission
Nightone Intro (???)
Room 1000 Years Wide (Soundgarden)
D Jam (jam in drop D)
Would? (Alice in Chains)
Dance Lesson (original)
Loud Love (Soundgarden)
I Would For You (Jane's Addiction)
extended jam / solos
Whores (Jane's Addiction)
Give it Away (Red Hot Chilli Peppers)
Vasoline (Stone Temple Pilots)
Stop (Jane's Addiction)
Ain't No Right (Jane's Addiction)
Three Days (Jane's Addiction)
Load equipment
Go home
Sleep late
Hang flyers with Wooldridge [for the next show in two days]
Ellis County Fair
July 22, 1994. Poster for the show at the Ellis County Fair in Hays, KS on July 22, 1994. There was another one identical to Cody's and I don't know if this one was used, but it shows the kind of art and clip art montage carried over from the Nightone days.
We got the gig in part thanks to the fact that we knew Renette Saba's mom who was doing the booking. It was mostly a good show except for some technical problems with the sound. McKenna's bass faded and we thought it was the amp, but figured out it was the battery for the active pickups in his Music Man bass (the same model as Flea from the Red Hot Chilli Peppers).
Habitat for Humanity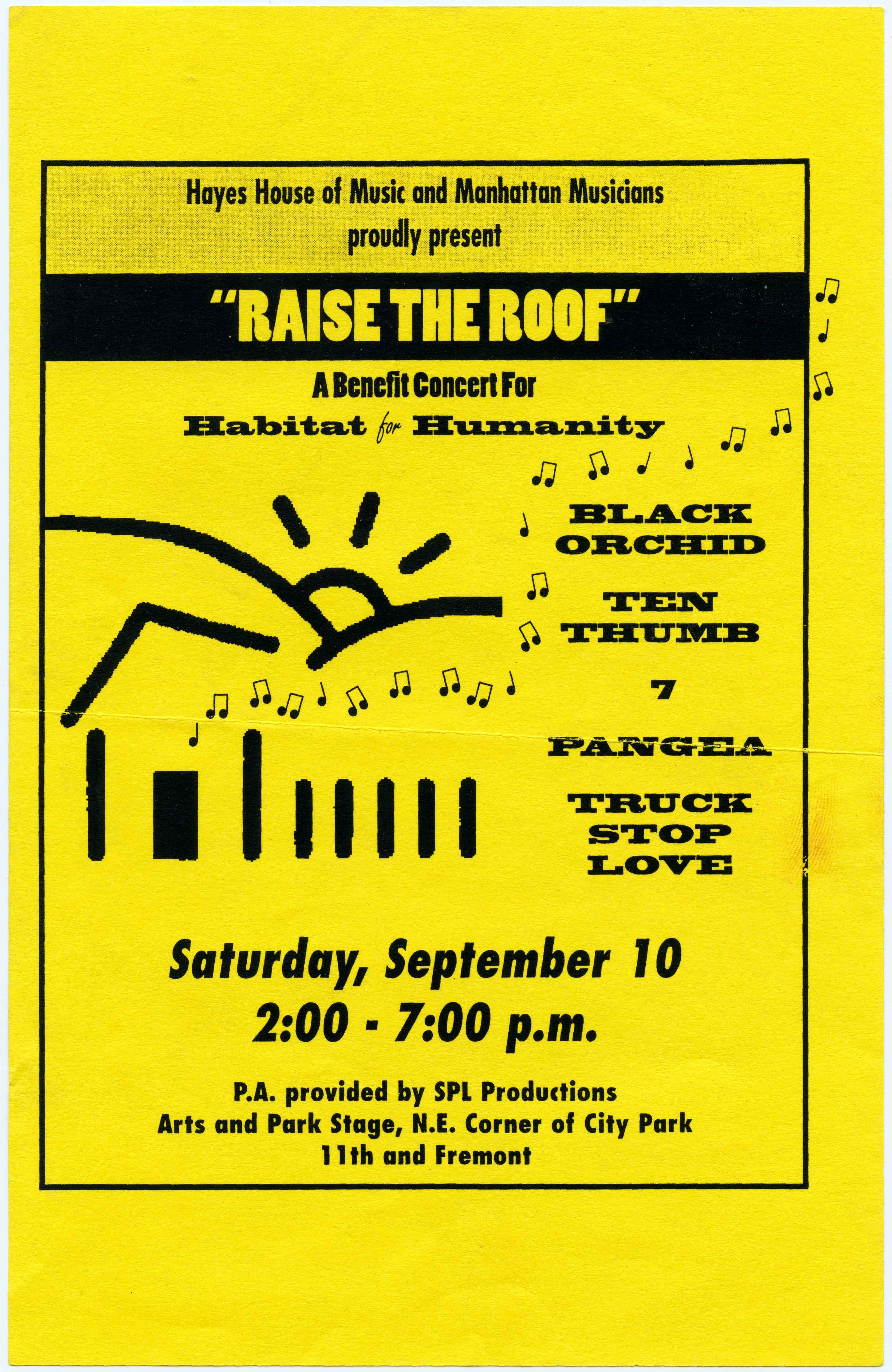 Saturday, September 10, 1994. This show was sponsored by our friend Doug Hayes who ran the music store Hayes House of Music where I got my first guitar, a glittering gold Fernandes strat copy, and also a 1973 Fender Precision bass and some other use amps and gear. It was a cool place to stop by once a week just to talk music and gear.
This show was with our local band friends Marty, from Ten Thumb, and Truck Stop Love, but somehow I don't remember this show. My calendar notes show it was "Doug in the park" at the northeast corner of City Park at 11th and Fremont in Manhattan, KS.
Russell Street dance
My calendar says $1000 for a date between September 14-19, 1994. I don't remember playing this show either, so it might have not have happened, and was instead a possible gig.
K-State Union
October 30, 1994. 3-6 p.m. Memorial Union Black & Gold Ballroom.
I remember vividly playing this show in the K-State Union. There were chairs set up and students came and went. One particular girl with a pony tail sat in the back, but stayed the whole time and watched intently. I'll never forget it because we were playing at the university I had dropped out of. It was time for me to get back to school and meet a girl like that.
Charile's - Halloween
October 31, 1994 Tommy reminded me of this show with Ten Thumb and Ralph's band (whose name I can't remember, but it was the name after Yaz Pistachio). It was at Charlie's in Manhattan, across from Goodnow Hall.
Damn you have a good memory.. I was thinking earlier so many times of which bar that was that we played at. But all I could remember is that we kick serious ass at that show and we all walked away happy
Apparently the day before we played the K-State Union, so this would have been two shows in two days.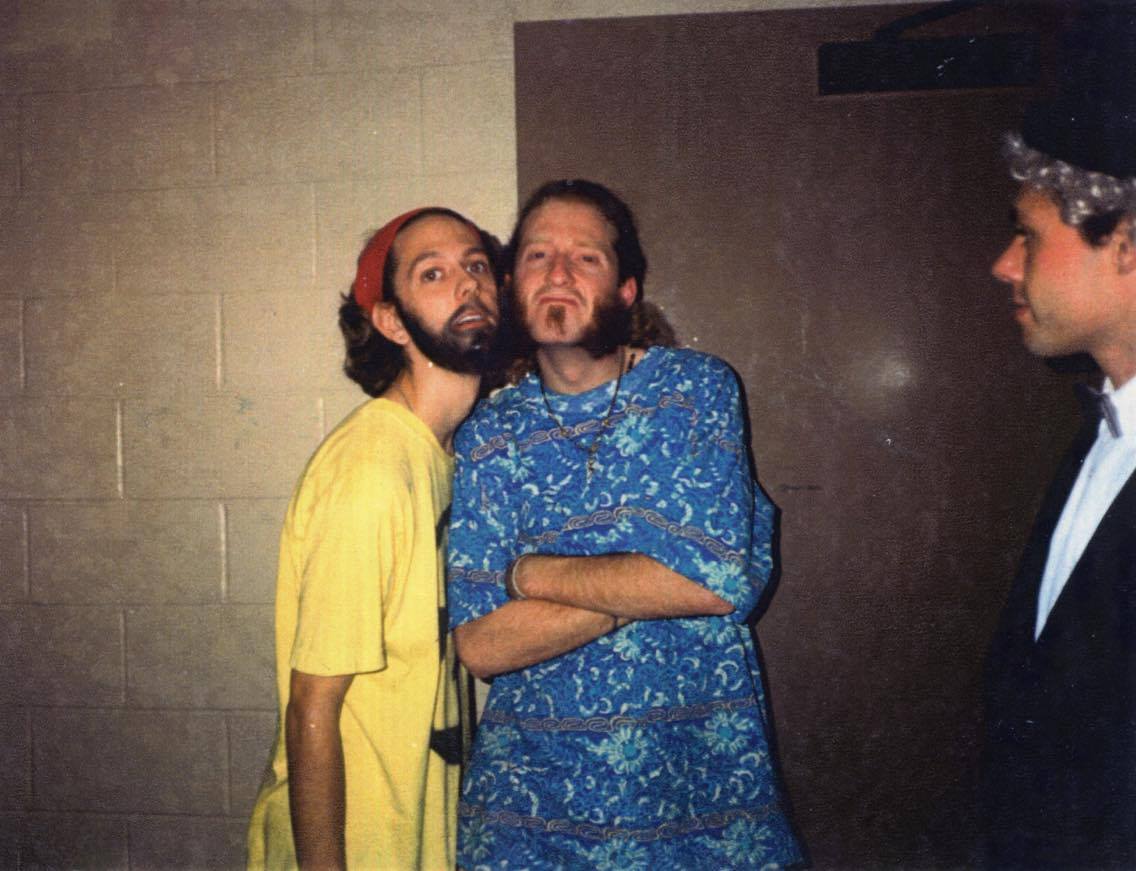 My friend Joshua R., Marty Robertson from Ten Thumb, and Mandi's brother Scott at the Halloween gig.
---
Recording Diversify
Jan 2, 3 and 7, 1995
Like Nightone Drama a year before, we recorded at Mercy Record Studio in Lawrence, KS, with Robert Rebeck at the controls. We recorded everything on January 2 & 3, except for the vocals and mixing which were done on Jan. 7th.
The band was over immediately after this recording in December 1994 because I moved to Manhattan to continue university, and McKenna moved to Houston, TX.
Since I was back in Manhattan, I kept working with Schon Thacker, and six months later we were both in Kansas City working on the Thacker/Stahlman KC songs.
Diversify - 1994
Outtakes from practice