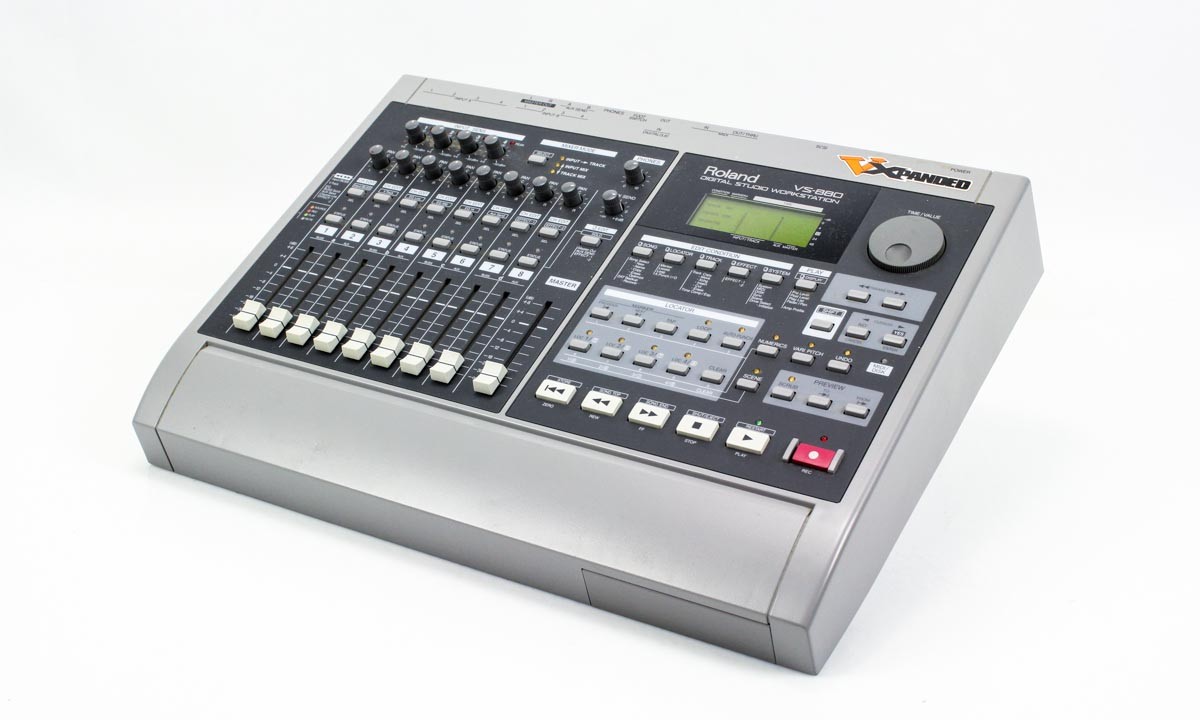 In the early days of the web there was a user group for musicians who bought the Roland VS-880 digital audio workstation (DAW). According to a posting I found, members Rick Knepper at Wasted Potential Productions and Bill Lieske at EMR made the compilation possible.
If I remember correctly, the list let us discuss how we were using the VS-880. The technology was cutting-edge and people were burning their own music CDs for the first time. Then the idea emerged that we should all share the music we were making. The compilation was born. A deadline was set to submit one song and then everyone would receive a copy of the final compilation.
The list of contributors grew into what became known as the "VS-880 Big List". The final product was a five-CD collection called Songs From the Big List(s) that used to be hosted here and here. Jeremy Summers, the V-Studio Webmaster, last posted about it in 1999. Maybe it was "List(s)" because some other user-group lists participated.
I wrote a review of most of the songs, including my own song, Little Dream, on disc #5, but let it sit and never posted it. So here it is, 15 years after I last saved the text file on April 22, 1999. The list was started on Septembre 22, 1998 and had 654 members. 84 people contributed.
I hope someone finds this useful or nostalgic, remembering the times when the digital recording revolution first came into our simple home studios.
---
| Song title | Artist | Style | CD | Track | Dur. |
| --- | --- | --- | --- | --- | --- |
| West to West | Knepper, Rick | Country Rock | 1 | 1/17 | 4:23 |
| Doug Robinson | Man with the Horn | Jazz | 1 | 2/17 | 6:36 |
| Black and Blue | TrickShot | Hard rock | 1 | 3/17 | 4:09 |
| Gun in Her Hair | Statik Hum | misc | 1 | 4/17 | 3:55 |
| Paper, Scissors, ROCK | Martorelli, Mike | Instrumental | 1 | 5/17 | 2:45 |
| Suicide Song | Deveau, R. Swan | misc | 1 | 6/17 | 3:05 |
| Because I Love You | Rubinstein, David | Slow Rock | 1 | 7/17 | 3:24 |
| El Nino | Smith, Bruce | Rock | 1 | 8/17 | 5:10 |
| You I Need | ANAYV | Christian Rock | 1 | 9/17 | 4:59 |
| MonstroDust | Herman, Steve | misc | 1 | 10/17 | 4:55 |
| Where Were You | Mosier, Galen | misc | 1 | 11/17 | 4:15 |
| Sedona Hills | Freistedt, Frank | misc | 1 | 12/17 | 2:54 |
| All the Gold in the World | Sealer, Don | Folk | 1 | 13/17 | 5:14 |
| Start Now | Goldstein, Neil | misc | 1 | 14/17 | 4:04 |
| Great Expectations | Johnson, Frank - Swurve | misc | 1 | 15/17 | 3:39 |
| Girlfriends | Baldwin, Charles | Pop | 1 | 16/17 | 3:32 |
| Bonus Track | Parental Advisory - Language! | misc | 1 | 17/17 | 6:57 |
| Ain't Just About You | Guerra, Bob | misc | 2 | 1/17 | 3:36 |
| Tuesday | Shane, Joe | misc | 2 | 2/17 | 4:47 |
| World Still Turns | Peter Knight | misc | 2 | 3/17 | 4:20 |
| Teardrops On Main Street | Jukebox John Hayman | Country | 2 | 4/17 | 4:21 |
| Critical Mass | Deal, Andrew | Rock progressiste | 2 | 5/17 | 4:06 |
| Live Your Life | Flowerpot - Todd Nall | Rock | 2 | 6/17 | 2:53 |
| Gambler's Blues | Brown Brothers' Band | Blues/Jazz | 2 | 7/17 | 3:13 |
| Melody | Mitch Harris | Rock | 2 | 8/17 | 3:51 |
| You've Gone + Somewhere Between B and E | Waddington, John | Rock | 2 | 9/17 | 6:12 |
| Codependance | Roberto Arroyo | Ambient Rock | 2 | 10/17 | 4:55 |
| If You Want Me | Riitala | Smooth Jazz | 2 | 11/17 | 4:48 |
| Be Free | Ron Oslund | Slow Rock | 2 | 12/17 | 5:20 |
| Fanny Power | Art Edelstein | Acoustic Instrumental | 2 | 13/17 | 5:03 |
| Auntie Em | Al Floeter | Folk Country | 2 | 14/17 | 2:56 |
| Aliens in the Stratosphere | Toth, Kevin | Rock instrumental | 2 | 15/17 | 3:50 |
| Unseen Train | Randy Brown | Folk Country | 2 | 16/17 | 3:44 |
| Penelope's Lament | Gerace, Frank | Ambient Vocal | 2 | 17/17 | 4:09 |
| Ironic Sonnet (cover of A. Morrisette) | Attic | Pop Rock | 3 | 1/16 | 5:05 |
| Jedda | Marcus Hooper | Ambient Goth Rock | 3 | 2/16 | 5:04 |
| The Bar Song | Ted Bromberg | Blues Country | 3 | 3/16 | 4:40 |
| Bee Swarm | Mikesch, Dave | Hard rock | 3 | 4/16 | 4:22 |
| Fragile Creatures | Freden, Dave | Slow rock | 3 | 5/16 | 2:42 |
| Lost Child | Ray Sharp | Hard Rock | 3 | 6/16 | 4:44 |
| He's Alive | Don Francisco & Ken Totushek | Religious Folk | 3 | 7/16 | 5:08 |
| The REEF | Taffe, Denis | Rock instrumental | 3 | 8/16 | 5:26 |
| Betty Joe | Mark Siet | Bluesy Rock & Roll | 3 | 9/16 | 3:53 |
| Colored Glasses | Paul Olito | Slow Rock | 3 | 10/16 | 4:37 |
| All Hail The Power | Curry, Craig | A capella Religious | 3 | 11/16 | 3:22 |
| Insomnia | Gillett, Donald | Ska | 3 | 12/16 | 4:57 |
| Here You Come Again | Moses, Daymore | Pop | 3 | 13/16 | 2:56 |
| Bonemaker | Miller, Chris | Slow rock | 3 | 14/16 | 5:31 |
| The Raggle Taggle Gypsies, Irish Jig | Walt Schlichting | Folk | 3 | 15/16 | 4:57 |
| Move On | Thomas Lundstroem | Rock | 3 | 16/16 | 4:56 |
| At Indian Creek | Emhardt, John D. | Children's Music | 4 | 1/18 | 3:59 |
| Just Hangin' Around | Scherer, Bill | misc | 4 | 2/18 | 3:47 |
| What's a Man To Do | Fishell, Mike | Jazz Vocal | 4 | 3/18 | 4:45 |
| Baby Sister | Bohemiam Hillbillies | Folk | 4 | 4/18 | 3:59 |
| Garden of Protection | Miller, Robert | misc | 4 | 5/18 | 3:19 |
| Walk That Road | Adrenaline Rocket | Pop | 4 | 6/18 | 3:18 |
| Come on Down | Sladden, Mark | misc | 4 | 9/18 | 4:33 |
| Home | Below, Bobby | Pop | 4 | 10/18 | 3:50 |
| Alley Cat..... | Greg Danyew plus Frankenstein/Doug Czajkowski | Jazz Rock | 4 | 11/18 | 9:07 |
| Man in the Mirror | Allen, Bob | misc | 4 | 12/18 | 4:22 |
| Quirky Little Quartette | Lieske, Bill | misc | 4 | 13/18 | 3:07 |
| Free Slick Willie | Uncle Bo | misc | 4 | 14/18 | 2:31 |
| Wipebutt | Apelife, Todzilla | Surf Rock | 4 | 15/18 | 2:52 |
| Morning Flight | Fitch, Gary | Smooth Jazz | 4 | 16/18 | 4:36 |
| Slaves of Glory | Jones, Formica | misc | 4 | 17/18 | 4:17 |
| Lydia | Burno, Marlon | Rock instrumental | 4 | 18/18 | 3:44 |
| Ode to Leo | Guidry, Dean J. | misc | 5 | 1/17 | 5:06 |
| A Child's Play | Evola, Bob | misc | 5 | 2/17 | 5:04 |
| Sweet Singin' Swing Thing | Carrington, Seth | misc | 5 | 3/17 | 4:54 |
| Shades of Gray | Spieth, Brick | misc | 5 | 4/17 | 3:02 |
| Sub-Urban | McNamara, Steve | misc | 5 | 5/17 | 3:26 |
| I Can Do All Things | Fitzgerald, Shawn | misc | 5 | 6/17 | 5:00 |
| Monkey | Nierzejewski, Mike | misc | 5 | 7/17 | 3:10 |
| Slap Dance | Elliott, Michael | misc | 5 | 8/17 | 3:26 |
| Little Dream | Stahlman, Justin | Rock | 5 | 9/17 | 4:44 |
| The Mad Man | Amaral, Paulo | misc | 5 | 10/17 | 4:44 |
| Postage, Parchment and a Promise | MacIsaac, Larry | misc | 5 | 11/17 | 3:59 |
| Old Maid | Ruth, Ant & Zipfel, Gary | misc | 5 | 12/17 | 4:44 |
| Big Brother's Tokyo Convertible....... | Evers, Jeremy | misc | 5 | 13/17 | 4:47 |
| Pretty Lady | Freeman, Glen | misc | 5 | 14/17 | 3:52 |
| Sailor | Chance, Aro | misc | 5 | 15/17 | 5:11 |
| Acoustic Medley | Pavuna, Davor | misc | 5 | 16/17 | 5:55 |
| Scotchfather! | Mather, Rick | misc | 5 | 17/17 | 2:43 |
---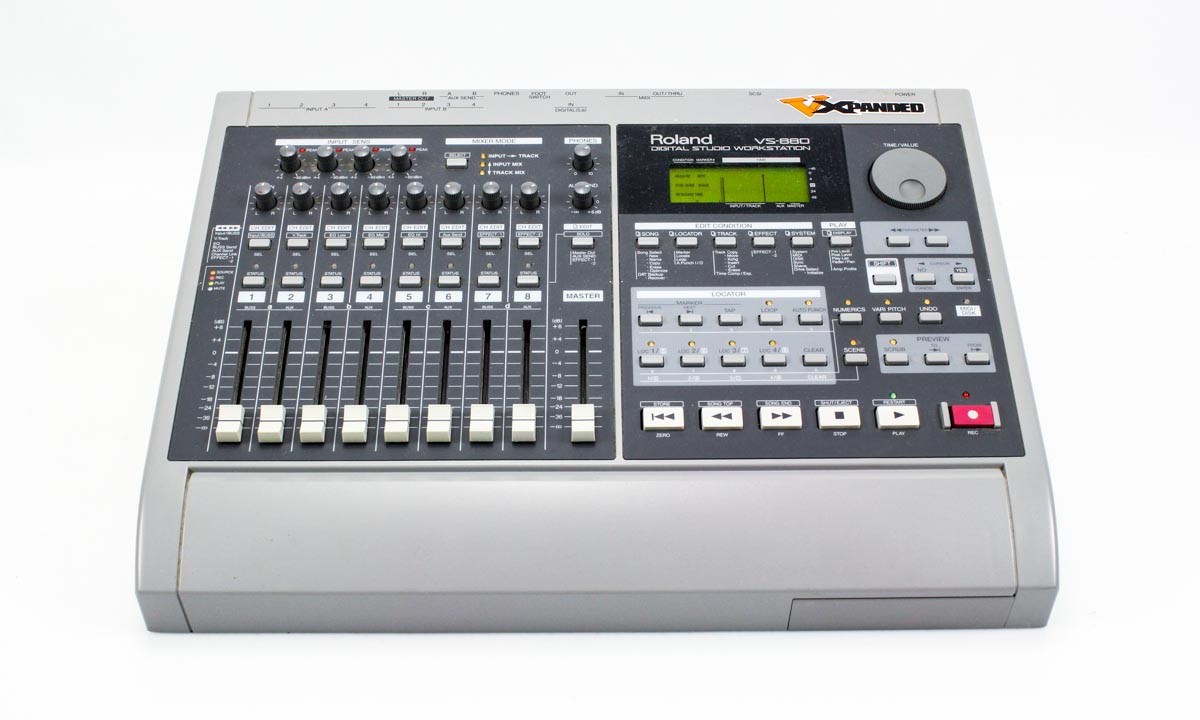 Note: These are mostly comments on technical aspects, because we were all learning how to use the new technology, and seeing if it could compare to the analog studios at the time. But the general consensus of the user group was that the music was creative.
Songs from the big list(s)
Disc #1
West to West by Rick Knepper
Guitars sound good and clean. Drums are weak. not dynamic. Even for a groove or rhythmic song, good sounding drums work better. I think lots of people just run the dry pre set drum kits into the VS. You could add reverd an or EQ. Or if gonig further, use sampled sounds. I don't think programmed drums are bad, I just think people should do more to personalize them for the song. Otherwise the song sounds like a demo. I liked the vocal effect. Made the vocals huge and easy to hear without just turning them up.
Man with the Horn by Doug Robinson
The drum sounds are a perfect example of something you must use real drums for. I have the V-Drums and not even they can sound like the drums on this song. The subtle and soft playing is impossible to replicate with current technology. The part One time when the singer says "Listen to the Man" I can hear the delay increase on the voice. Not a problem, but I'm not sure if it was intended. I compared a Jazz CD recorded on the VS-880 called Phono.. (something) to the L.A. Confidential soundtrack and it sounded so much more cold. I thought it was impossible to recreate that 50s analog soft sound of jazz, but this song does just that. This is an incredible recording. Nothing is out of balance at any point in the song. It's also just a good song besides it's technical quality. Félicitations et Bravo.
Black and Blue by TrickShot
Low recording level. Lots of delay on the vocal like 80s rock. Not a bad thing, just an observation. Recording sounds like a band recorded live at the local bar through a P.A. system. I like it. For the style of song I think it's good.
Gun in Her Hair by Statik Hum
Great use of synths. There definitely in there a lot, but unlike many similar songs they're not too much. The melody gets stuck in my head. "why won't you let me go"
Paper, Scissors, ROCK by Martorelli, Mike
Good songwriting. Good drum sounds - not too "cracking" or harsh. great mix of instruments. good use of
stereo. sounds full throughout. Synths a bit strong at end.
Suicide Song by Deveau, R. Swan
Everything sounds great until dist. guitar comes in. I notice drums sound like machine then, too. I like the wandering synthy sound panned left to right and back. Dist. guitar is too trebley. Recording level a bit low. Good song
Because I Love You by Rubinstein, David
Recording level good. Vocals up in mix is good. "Because I tried to tell you something." When that part comes in I like the dist. guitar in background mixed low. Reminds me of Nine Inch Nails. I kept thinking the song was going to kick into some distorted guitar rage, and I was glad it didn't.
El Niño by Smith, Bruce
Didn't review
You I Need by ANAYV
Computer beeps at beginning are cool. Singing is surprising. Sounds like struggling and aching but there's character in the singer's voice and I like it more than lots of other boring generic singers. I'm not sure why he decided to pan the voice around toward the end. but then again, why not.
MonstroDust by Herman, Steve
Sounds like psychadelic Deep Purple / The Doors. I like the drum sounds. Can't tell if they're real or machine. They Don't sound studio pop-song perfect, but for this style they work. The flanged keyboard at the end is great. Good subtle acoustic guitar work in there too.
Where Were You by Mosier, Galen
I like the climb-down in the riff when the singing starts.
Good idea putting the drum toms with the climb-down. I like this one.
Sedona Hills by Freistedt, Frank
Beautiful song. Great acoustic recording - preserved the dynamics. Great bass warmth. I really like this song a lot.
All the Gold in the World by Sealer, Don
Memorable song. Very pleasant. Vocals almost distort - maybe recorded a bit too hot. Great buildup to "I wouldn't change ...." Synths are a bit strong and sound synthy.
Start Now by Goldstein, Neil
Some phrasing on singing is akward. Could be sung more flowing so it doesn't sound like the words are forced to go with the song. Vocals sound flat but is probably because the wrong mic was used. Some fahlsetto singing sounds unsure. Don't be afraid to sing with force and loudness as long as it's not uncontrolled and harmful to your voice. Good effort with real drums. I know it's difficult and you did better than I can. Song has cool 70s vibe. I can imagine the singer of Boston doing this.
Great Expectations by Johnson, Frank - Swurve
Distorted vocal, recorded a bit too hot. A lonely song, like a cowboy on a front porch. Relaxed. I like the part where you say "great expectations".
Girlfriends by Baldwin, Charles
Should have been girlfriends? The heavy guitar is great. And
when the singer sings higher with a louder voice that works
perfectly. This song is original. I really like the ah ah ahs
in the background too. This one is memorable.
Bonus Track by Parental Advisory - Language!
Same as West to West but with... unnecessary exchange of insults. But hey, Rick made the compilation possible so we'll oblige himl.
Disc #2
I didn't review disc #2
Disc #3
Ironic Sonnet (cover of Alanis Morissette's Ironic)
Vocals too far out front. No reverb or effects on voice? Good quality of vocal recording though.
Drums sound organic, woody and real. Guitar sound plugged in direct with maybe acoustic insert effect
Guitar could use stereo.
Jedda by Marcus Hooper
1st snippet: Vocal dry and too out front Guitar sounds like real acoustic. Could use stereo. Also boost it in mix.
2nd snippet: Good use of effects in stereo. Vocals at good mix level. Vocals too dry when yelling. Too out front then too.
Quality sound on effects and guitar sounds. Drums sound good - If they're drum machine they're carefully treated to sound unique. Good bass tone and recording.
The Bar Song by Ted Bromberg
Country sounding. Like old Springsteen. Drums hi-hat sounds too high in mix or maybe distorting - barely. Snare too low in mix and too muddy. Solo guitar perfect pan and EQ. A good solo at that. OK Could be brought to middle during solo time, and kept to the right for licks between words and at the end. Vocals OK. Backup Ooooh Oooh vocals a bit bassy.
Bee Swarm by Mikesch, Dave
Dr. Rhythm drums? Guitar sounds too effecty. I want it in my face with a song like this. Do you Like Tracii Guns? Reminds me of the guitar song "I'm Addicted" on Cocked And Loaded. Bass a bit low sometimes. Especially for this song. Needs compression?
Fragile Creatures by Freden, Dave
Good mix. Good use of panning with guitar effect. It's not just "turn this a bunch really fast"
Not much to say. good recording.
Lost Child by Ray Sharp
Dual guitars. Collective soul sounding. Sounds too bassy. Guitars a bit, but especially vocals. I can hear the bass doing different notes, so that's good. Drums are the weakness. Not just cause drum machine, but cause they lack presence. Can't feel the bass drum. Guitar solo off to the side. I would have liked it in the middle and louder -- or less effects. Nice touch with volume swell, panning guitar.
He's Alive by Don Francisco & Ken Totushek
Great guitar sound. Stereo happening. Maybe two guitars. Great vocal EQ and mix. Drums make it weak. you just need a different drum module for better sounds. The sounds don't fit with the cool story-like song. Keyboards too much in mix. Maybe just EQ out some bass. Sometimes drums and guitars get off rhthym. I like the keyboards at the end after the Lyrics "melted into peace" but still to much in mix. they start crowding the vocals
The REEF by Taffe, Denis
Bass drum is up there like it should be good use of stereo. that's an Alesis SR-16 preprogrammed beat
Ballad - 5. Think about people noticing preset beats. Good guitar tone and recording. Too much reverb when guitars kick into heavy part. Excellent guitar solo tone. A bit buried. Overall a bit bassy.
Betty Joe by Mark Siet
Vocals a bit dry (completely?) Remember even natuarally there is come reverb. But in studio we sing in soundproofed rooms To control the reverb. don't forget to put it in - even just up to a natural level. I think it's an overall load recording. Maybe too loud sometimes cause I hear slight distortion on the
Right (maybe?). Again, the drum machine throws off the sound of the style. Maybe put effects on the drums to make then fit in an environment.
Colored Glasses by Paul Olito
Drum machine here has effects/EQ that make it fit this song's style. The vocals sound great - huge. recorded in stereo? Very soft and easy to hear yet not too much. the voice sounds like David Bowie. Amazingly like it. the snyths are perfect for this song.
All Hail The Power by Curry, Craig
A capella. Good finger snap sounds. Real? Main vocal a bit buried. Overall a bit bassy. Cool song.
Insomnia by Gillett, Donald
Bass has great tone. Great drums. Vocals a bit buried. Good EQ on guitars. Should have panned horns more L&R like guitars and left vocals only in middle. Heavy guitars at end are at good mix. Very low and good for the texture. Memorable.
Here You Come Again by Moses, Daymore
Vocal has perfect amount of reverb. Good level in mix too. Drums are not dynamic enough. Too dry too. sound like machine. Bass is tight and well EQed. Guitar solo fits perfectly and tone/EQ is great. Only drawback on song is drums. Strings sound like authentic 70's pop. Vocals maybe a bit mid rangey toward end.
Bonemaker by Miller, Chris
Very organic sounding song. Real drums sound like real drums. Whole song sounds like a struggle to come together (not the instruments etc. but the idea). I mean that in a good way - I think the song sounds like what the writer intended. Instruments all fit together. Vocals are unique to the song too. Sounds like real acoustic. 12-string? I like this one. This is one of the most interesting songs on the compilation. Feels like a personal struggle. Haunting. I've come back to listen to this a few times just for personal enjoyment.
The Raggle Taggle Gypsies, Irish Jig by Walt Schlichting
Reminds me of the movie Jesus of Nazareth. Balance seems heavier on the right (female voice) at first
When instruments come in it sounds balanced. Good use of slowy building instruments. Sounds like recorded outdoors. Guitars sound very woody. I'm happy to hear this style on the compilation.
Move On by Thomas Lundstroem
Drums are perfect. Reminds me of The Sultans of Swing. But don't get me wrong: this song is excellent. It rocks. It has that energy usally only attained with a singer who sings high. A really good example of what the VS-880 can do. One of my favorite songs on the Comp CD. All instruments EQed and mixed just right. Good pan when guitar pick slide comes in for solo toward the end. Good guitar playing -- excellent. And great lyrics & songwriting. Simple parts but with personality and a ROCKING solo at end. Good idea to trade off left and right. Only critique is that the ending is abrupt and without warning. Planned, I'm sure, but I might have faded it out if it were my song, or at least let the pinched cymbal ring out a bit instead of cutting off the sound so dryly. Good song to end CD #3. What kind of guitars were used? I'd love to get that kind of tone. What kind of amps - or amps sims? This song totally kicks ass, restrained until it finally builds, and then just rips and rips. I don't want that solo to ever end. This is what we live for as rock musicians. Ends way too soon. I've put this song on when I need inspiration. If it had been discovered and marketed right, could have been a rock classic in the right era.
Disc #4
At Indian Creek by Emhardt, John D.
Drums machine doesn't matter here. Voice is good for this song, but I imagine kids singing it. At camp. I bet it's taught to the kids? Actually I don't know if I've ever heard this kind of song. It's got to be for very young'uns. Cause Kids these days are going to say, "that song is too goofy and joyous". It's practically a psychology lesson to get the theme song right for the audience age group. Keep it up. This is pure and untouched by ego. Happy to hear it on the compilation.
Just Hangin' Around by Scherer, Bill
Do do do do. Great singer for this type of music. I like the music when the lyric goes "And I don't see no world going by". Drum machine hurts this a bit. But it could be solved by changing the program to feel a little more natural. The EQ and mix is good.
What's a Man To Do by Fishell, Mike
If my baby gets mad at me. Sounds like the same disc/artist as the song before. Good placement of instruments. Piano is subtle and to the right, yet I can hear each note while the vocal is very dominant and EQed just right. Almost no effect on the lead vocal but doesn't need any more. Good drum mix. Real drums even though you don't hear them too much They don't need to show off. Just there enough to realize they're real.
Baby Sister by Bohemiam Hillbillies
Vocals too much panned to the right. Production fits this song. Not a country song, but like in the country. Nice hook: "Baby sister was gah ah ah one." Drums barely in mix, but it works like that. It's fun to see a song that brakes the standards of what mixes should be like. Sometimes singing gets off beat - just being picky cause it's barely a problem. This song is memorable.
Garden of Protection by Miller, Robert
Dist. guitar too loud, vocal not loud enough. Vocals OK when everyone is singing "garden of protection" Maybe some effects or reverb on lead vocal. Tempo changes a bit throughout. It's OK if vocals follow suit. vocals off key souvant, mais ça ne me dérange pas.
Walk That Road by Adrenaline Rocket
Guitar panned too far to left. Harmonica too loud. Maybe EQ the Mids down. Drums a bit bassy - just a bit. Guitar over at the left is the only big distraction - especially in headphones. Backing vocal is at good level.
[Title missing] by Marshall Green?

Earthman by Bill Bromfield?
I'm missing this song and the one before it. But at some point I had Earthman because I remember how it went and I liked it. Starts out sounding like "sitting on a parkbench". Then goes into something completely different. If drum machine, it's good. the vocal is perfect for the song. As opposed to songs that have a studio singer for a session. I like the song. I like how it ends "I am an Earthman".
Come on Down by Sladden, Mark
Great lead guitar tone/effect level/mix. Sounds like 80s pop. Great lead vocal. Snare is noisy. Ride
cymbal is noisy too. Again good singing. Bass is good: keyboard? It works.
Home by Below, Bobby
Starts out sounding like "sitting on a parkbench". Then goes into something tout à fait différent. If drum machine, it's good. the vocal is perfect for the song. As opposed to songs that have a studio singer for a session. And the feeling isn't there. I like the song. I like how it ends "I am an Earthman"
Alley Cat by Greg Danyew plus Frankenstein / Doug Czajkowski
Sounds cool but synthetic. Guitars plugged right in? Drum machine. But as I continue to listen. Everything seems to feel coherent. I imagine the singer has a beard. I don't know why I have that image. I like the confidence in the singer's voice.
Man in the Mirror by Allen, Bob

Quirky Little Quartette by Lieske, Bill
Instrumental and quirky. Clarinets and tubas & stuff? Bill helped make this compilation possible.
Free Slick Willie by Uncle Bo (Gary Hughes)
Political song. "He's the best Democrat, the Republicans ever had". I guess some people didn't like Bill Clinton?
Wipebutt by Apelife, Todzilla
Surf-rock instrumental. Why the title?
Morning Flight by Fitch, Gary
Very well-produced smooth jazz.
Slaves of Glory by Jones, Formica
A bunch of samples, not a song.
Lydia by Burno, Marlon
Meandering instrumental.
Disc #5
Ode to Leo by Guidry, Dean J.
Reminds me of Klaus Flouride, the Dead Kennedys bassist's solo albums. The singing especially. Guitar sounds good. Just one track but sound is in stereo. Drums sound pretty mono. The clean/acoustic guitar is mixed at a good level -- the level for texture. The song lacks highs, but not cause of too much bass. It sounds fine. the vocals are a bit buried. Good idea to fade it out. Memorable.
A Child's Play by Evola, Bob
If there were a female singer, I bet she'd choose to sing like Enya. The song has an Earthy feel until the drums come in. the drums don't sound as organic. Sounds like music in a potpourri shop with nicknacks and handmade stuff my mom would buy. I like the part when it changes to minor. Song is really good, but would sound better played by an orchestra to get more dynamics. Then it would be the kind of song for a movie soundtrack.
Sweet Singin' Swing Thing by Carrington, Seth
Subtle horn sounds are good at beginning. Even when they get louder they sound good. Drums sound good except for ride cymbal which sounds artificial.
Shades of Gray by Spieth, Brick
You got the sound of old rock music. Like "Turn, Turn, Turn" That's a compliment. I like the muffled sound of the drums. And the mono sound might be what makes of older rock. There is a ride and a few toms in the left speaker toward the end which adds to the whole song. Catchy song.
Sub-Urban by McNamara, Steve
Lead guitar sounds effecty/plugged direct. Might have been what you wanted. clean guitar sounds good. I like the subtle percussion every now & then. Good bass tone. Turn it up.
I Can Do All Things by Fitzgerald, Shawn
Guitar not evenly panned. Backup vocals are excellent! Panned extreme L&R and at a good mix level. Drums are EQed OK, but a bit too straight-forward. Maybe the bass drum sounds too loud. The drum fill sounds pre-programmed.
Monkey by Nierzejewski, Mike
Sounds overcompressed. Low overall level too. Bass is easy to hear but maybe too much. guitars panned extreme OK. Sounds like a drum machine, but not as much as some. Vocals buried.
Slap Dance by Elliott, Michael
Very dry drums. good delay on guitars. good drum programming with the percussion part - doesn't sound like pre-set pattern. I like the changing drums under the song - experimental. Solo guitar low in mix, but I can hear it. There's enough going on that not just one instrument necessarrily has to dominate. Turn up bass. Good texture song.
Little Dream by Justin Stahlman
The best song on the Comp!!! Just Kidding, it's mine. Maybe recorded too hot - guitars might distort a bit every now & then unintended. I needed something to make it sound fatter. vocals a bit too bright - I used the wrong type of mic for my voice. Guitars sometimes sound thin - should have chosen a different guitar for this type of song. I used a strat style and I needed something with humbuckers.
The Mad Man by Amaral, Paulo
Sounds like Pink Floyd. Good example of holding back on clean guitar. Just simple picking. Good solo tone. Drums are clearly the drawback here. Just cause they sound artificial. No dynamics on the manic drum parts. good scream.
Postage, Parchment and a Promise by MacIsaac, Larry
Quality sounds. Vocal distorts on "toughest part is not the waiting" Good drum sounds. Real drums I think. Good mix level Bass is at good level. A bit loud - but you notice only When it's playing a little solo thing - just what you want. Good mix of backup vocals. Very low, but they're there to add texture. A nice song.
Old Maid by Ruth, Ant & Zipfel, Gary
Great recording for this style. Everything sounds real - just filtered through wind tunnel. Something in a recording quality reminds me of Portishead. Sounds organic but not in an earthy way. Maybe there's enough reverb on the instruments to sound real.
Big Brother's Tokyo Convertible....... by Evers, Jeremy
Good guitar tone. Not too trebley. Drums sound record on one mic in the living room. As the song progresses, it seems to fit the style. Solo guitar mania. Cool effects. For A minute I had to see if my Atari 2600 switched itself on. Did you teach your computer to say Tokyo Convertible Baby?
Pretty Lady by Freeman, Glen
Vocals in right speaker only? weird balance of instruments. good song. Sounds balanced when Piano/guitar comes in.
Sailor by Chance, Aro
Great sound for micing acoustic.
Acoustic Medley by Pavuna, Davor
Not much to comment about. Good recording of acoustic guitar.
Scotchfather! by Mather, Rick
Godfather theme on horn. With samples of gunfighting.
---
The original user-group listed the authors and their e-mails in a time before spam (email now redacted by Yahoo, but who has the same email from 15 years ago anyway?) It's worth printing the list again because in the official version some people used their band name, and this might help find the person who submitted the song:
The List of Contributors:
Rick Knepper < rfkiii@...> CD #1 Cut #1 (4.23)
Doug Robinson < Jazzooo@...> CD # 1 Cut #2 (6:35)
Victor Paul < trickshotgroup@...> CD #1 Cut #3 (4:08)
Dave Giannetto/Ron Pfeiffer < DGianeto@...> CD #1 Cut #4 (3:54)
Mike Martorell < M3f2m1@...> CD #1 Cut #5 (2:44)
R. Shawn Deveau < rdeveau@...> CD #1 Cut #6 (3:05)
David Rubinstein < grubby@...> CD #1 Cut #7 (3:23)
B Smith < ZySmith@...> CD #1 Cut #8 (5:10)
ANAYV < ANAYV@...> CD #1 Cut #9 (4:59)
Steve Herman < hermazoid@...> CD #1 Cut #10 (4:55)
Galen Mosier < gmosier@...> CD #1 Cut #11 (4:15)
Gino Razionale < Ginobass@...> CD #1 Cut #12 (2:54)
Don Sealer < dsealer@...> CD #1 Cut #13 (5:13)
Neil Goldstein < ngold@...> CD #1 Cut #14 (4:04)
Frank Johnson < fjohnson_98@...> CD #1 Cut #15 (3:38)
Charles Baldwin < wonderpop@...> CD #1 Cut #16 (3:32)
Bob Guerra < BobG1313@...> CD #2 Cut #1 (3:35)
Joe Shane < JoeShane@...> CD #2 Cut #2 (4:47)
Peter Knight < knightpa@...> CD #2 Cut #3 (4:20)
John Hayman < jhayman@...> CD#2 Cut #4 (4:21)
Andrew Deal < a3d3@...> CD #2 Cut #5 (4:06)
Todd Nall < Toadnall@...> CD# 2 Cut #6 (2:52)
William Brown < William.Brown@...> CD #2 Cut #7 (3:13)
Mitch Harris < monad@...> CD #2 Cut #8 (3:51)
John Waddington < Shadowcaster@...> CD #2 Cut #9 (6:14)
Roberto Arroyo CD #2 Cut #10 (4:55)
Jari Riitala < riitala@...> CD #2 Cut #11 (4:48)
Ron Oslund < reoslund@...> CD #2 Cut #12 (5:20)
Art Edelstein < arte@...> CD #2 Cut #13 (5:03)
Al Floeter < avf@...> CD #2 Cut #14 (2:55)
Kevin Toth < ktoth@...> CD #2 Cut #15 (3:50)
Randall L Brown < randyb@...> CD #2 Cut #16 (3:43)
Frank Gerace < seahorse@...> CD #2 Cut #17 (4:07)
John Miles < john.miles@...> CD #3 Cut #1 (5:04)
Marcus Hooper < clamar@...> CD #3 Cut #2 (5:04)
Ted Bromberg < Ted_Bromberg@...> CD#3 Cut #3 (4:40)
Dave Mikesch - Daveman < mcsam@...> CD #3 Cut #4 (4:20)
Dave Freden < dfreden@...> CD #3 Cut #5 (2:42)
Ray Sharp < rsharp@...> CD #3 Cut #6 (4:44)
Ken Totushek < kensmail@...> CD #3 Cut #7 (5:09)
Denis Taaffe < dtaaffe@...> CD #3 Cut #8 (5:25)
Mark Siet < jjslim@...> CD #3 Cut #9 (3:53)
Paul Olito < polito@...> CD #3 Cut #10 (4:37)
Craig Curry < ccurry@...> CD #3 Cut #11 (3:22)
Don Gillet < DGillett@...> CD #3 Cut #12 (5:57)
Daymor Moses < Daymor1@...> CD #3 Cut #13 (2:55)
Chris Miller < chrismiller@...> CD #3 Cut #14 (5:32)
Walt Schlichting < wsch@...> CD #3 Cut #15 (4:56)
Thomas Lundstroem < Thomas.lundstroem@...> CD #3 Cut #16 (4:57)
John Emhardt < jemhardt@...> CD #4 Cut #1 (3:58)
Blind Willie Scherer < bspro@...> CD #4 Cut #2 (3:48)
Mike Fishell < jfishell@...> CD #4 Cut #3 (4:45)
Janet/Michael Dagley Dagley < daeggadaegga@...> CD #4 Cut #4 (3:59)
Robert Miller < landing@...> CD #4 Cut #5 (3:20)
Marshall Green < atcsys@...> CD #4 Cut #6 (3:17)
Bob Belew < bigbob@...> CD #4 Cut #7 (3:50)
Bill Bromfield < brom@...> CD #4 Cut #8 (3:46)
Mark Sladden < mark.sladden@...> CD #4 Cut #9 (4:33)
Greg Danyew < Tonapah@...> CD #4 Cut #10 (4:12)
Doug Czajkowski < Drczajk@...> CD #4 Cut #11 (4:55)
Bob Allen < Badbunny27@...> CD #4 Cut #12 (4:22)
Bill Lieske (Listserver) < bill@...> CD #4 Cut #13 (3:07)
Gary Hughes (Uncle Bo) < bo@...> CD #4 Cut #14 (2:31)
Todzilla < steed@...> CD #4 Cut #15 (2:13)
Gary Fitch < gefitch@...> CD #4 Cut #16 (4:36)
Chris Sheppard < LOGS27@...> CD #4 Cut #17 (4:17)
Marlon Burno < mega.hertz@...> CD #4 Cut #18 (3:48)
Dean J. Guidry < DGuidry@...> CD #5 Cut #1 (5:05)
Bob Evola < revola@...> CD #5 Cut #2 (5:04)
Seth S. Carrington "SSC" < sshahc@...> CD #5 Cut #3 (4:54)
Brick Spieth < BRICK1@...> CD #5 Cut #4 (3:02)
Steve McNamara < Infrasupra@...> CD #5 Cut #5 (3:27)
Shawn Fitzgerald < shawn@...> CD #5 Cut #6 (5:00)
Mike Nierzejewski < bronko@...> CD #5 Cut #7 (3:10)
Michael Elliott < melliott@...> CD #5 Cut #8 (3:26)
Justin Stahlman < stahlman@...> CD #5 Cut #9 (4:44)
Paulo Amaral < 3damaral@...>CD #5 Cut #10 (4:44)
Larry MacIsaac < bklmac@...> CD #5 Cut #11 (3:59)
Gary Zipfel < zip@...> CD #5 Cut #12 (4:44)
Jeremy Evers < negspect@...> CD #5 Cut #13 (4:47)
Glenn Freeman < bjbaker@...> CD #5 Cut #14 (3:51)
Aro Chance < falcondeer@...> CD #5 Cut #15 (5:11)
Davor Pavuna < pavuna@...> CD #5 Cut #16 (5:55)
Rick Mather < rickster333@...> CD #5 Cut #17 (2:41)